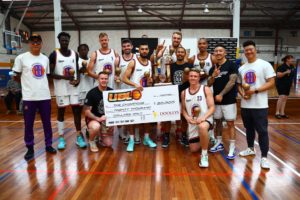 Ultimate Basketball League (UBL) is back for its 10th Season commencing in August 2023. UBL is a league for senior players that runs through the later part of the year. UBL also offers prize money for the winning team. The competition hosts a number of teams from across the wider Sydney area, and has featured a number of ex-NBL and international professional players. The league is run as a summer competition to not conflict with other representative competitions.
UBL also runs a Young Guns competition in its 9th season, which is for players 25 years of age and under. Young Guns competitions run normally from March each year.
Most games are broadcast live on our YouTube channel here, along with Glory League for you and your family and friends to enjoy watching your games.
If you are interested in entering a team, or want to join a team, please write to us at [email protected] or call us on 02-9646-3840.
If you are looking for our current competition draws and live game stats please see the links below.