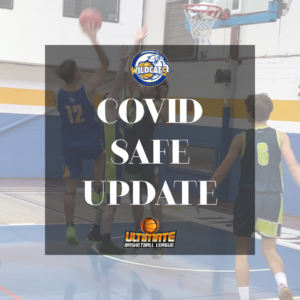 The following restrictions will apply at Cumberland (Auburn) Basketball Association as of 24 June 2021:
Face masks mandatory for all people entering the Centre. Masks can only be removed while actively participating in games/activities (ie. players, coaches, referees). Staff (including Canteen, Supervisors & Score Bench) must also wear a mask at all times.
We discourage spectators from entering the Centre but may allow two (2) spectators per participant including siblings if unavoidable. (Spectators will be turned away if the limit is exceeded).
All Visitors to centre must check into QR code and have temperature taken at turnstile upon entry.
If anyone has visited a Covid-19 Hotspot please do not enter Centre and follow government directions.
Practice 1 person/4m2 physical distancing unless from the same household.
Use the hand sanitiser provided (located at entrance & on walls in foyer area) on entry.
Arrive no earlier than 10 minutes prior to your game time.
Leave immediately after your game and ensure that you dispose of your rubbish in the rubbish bins and recycling bottles in the yellow and red bins provided.
If you are feeling unwell or displaying any symptoms of illness or of COVID-19 please refrain from attending the Centre and seek urgent medical advice.
Thank you for helping us to stay safe…